« 17/07/2005-05:57:41 | Main | Glacier Trip Pics »
July 18, 2005
PPP-Pick Up a Glacier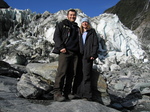 This weekend we took a break from snowboarding and took Colin on a trip to see some of New Zealand's finest glaciers. We also went on the hunt for penguins but they must have decided to take a holiday to the UK (where apparently the weather is much finer this time of year) as they were nowhere to be seen.
Tramping is the rather affectionate sounding name that Kiwis use to mean walking or hiking; our weekend involved quite a bit of this too, Running Richard would be proud/ shocked.
After a quick stop off at Thunder Creek Falls and Knights Point, our first major stop was to see the penguins. We walked for 1 1/2 hours in the hope of seeing them but all Rob ended up with was wet feet as he got lured into the sea by the promise of penguins hiding in the rock pools. Still, it was a fine day and a pleasant walk.
After spending the night at Franz Joseph township, we started our day by walking to the glacier terminal front. From a distance, the glacier looked a bit like a lump of dirty snow but it was worth the walk to stand right next to the glacier where you could really see it's humungous size.
Next we drove to the Fox Glacier where we embarked on another 1 1/2 hour walk to the Fox terminal face. Not having seen enough glaciers we then decided to try and see the glacier from a different angle and drove up a road apparently not fit for campervans (it was nothing after having driven up Cardrona mountain) to the start of our hike to the chalet lookout. This walk was rather good fun as there were a couple of largish streams that we had to cross and Rob was a complete gent and carried me across.

We got up early the next day to embark on another walk, this time around Lake Matherson to see unforgettable views of Mounts Cook and Tasman reflected in the water.


[2 Glacer Trip galleries here and here]
Posted by deb at July 18, 2005 07:31 AM
Comments
Post a comment