« Kyoto Pics | Main | It's a small small world »
September 14, 2005
I think I'm turning Japanese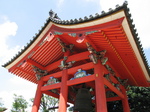 A few days ago we went for a wander around Kyoto. It was a very hot day but we persisted in our Temple spotting along with hundreds of others. We thought the crowds might scare the temples away but apparently they are very domesticated in their natural habitat and were happy to pose for pictures. Deb spent hours working out a walking tour and we faithfully followed it around the Sanjusangen-Do temple (where we weren't allowed to take any photos !), the Kiyonizu temple and the Nanzen-Ji temple.
The Sanjusangen-Do temple was probably the most impressive with 1001 statues of the 1000 armed Kanoon (the budhist Goddess of Mercy).
We've been in Tokyo for a few days now and we have been visiting the various districts within the city. We have elongated our stay in Tokyo so we can take in the Tokyo Games Show and take a peak at the new XBox 360 and maybe even some PS3 games. We'll now be leaving for China on Monday.
[2 Kyoto galleries here and here]
Posted by robl at September 14, 2005 11:26 AM
Comments
Post a comment