« Ninh Binh Pics | Main | Hue Pics »
November 13, 2005
Good Morning Vietnam (it had to be done !)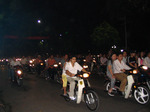 The last couple of weeks in Vietnam have been quite a mix. I think our first experience sums up a large part of our Vietnamese experience. We had just arrived at the airport and were absolutely knackered after the trip from Laos (as we were both a bit off colour). We decided to jump in a taxi and get him to take us to the hotel we had picked in the Lonely planet - he asked us if we were sure we wanted to go there and he knew somewhere better etc ... but we told him we had a booking and off we went. A 1/2 hr journey later and we were at the hotel - it had the sign outside and everything - the only thing was we couldn't see the cafe that was supposed to be across the road - strange but we went inside (as the guy from the hotel grabbed our bags and ushered us in). It was a reasonable hotel - a little pricey but fine and recommended by the Lonely Planet. The only thing was it wasn't actually the hotel we had asked to go to - it was a fake with the same name !

To be fair I had read about this in the LP and I guessed we were being scammed so only booked in for one night, and the room wasn't too bad if a little expensive. So how does this relate to our experiences of Vietnam - well I guess basically the majority of people who try to offer you a service are out to scam you in some way but overall the experience won't be too bad - if a little expensive ...
I think my favourite thing was seeing the water puppets in Hanoi - it's like punch and Judy but on water ! I managed to capture the best part on video (water dragons playing with some impressive effects). Unfortunately we were sitting at the back so the pictures don't do it justice. Hanoi was probably our least favourite part of Vietnam as you couldn't walk down the street without at least three or four VERY persistent people trying to get you to buy/book/rent/eat something. It meant you couldn't enjoy the city as you were dashing from place to place trying to keep off the street - we've experienced tough hawkers before and I thought I'd perfected my 'Get Lost' stare but apparently thats not understood in Vietnam.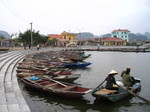 After recouperating in Hanoi (and moving to another Hotel), we travelled onto Ninh Binh where we experienced another tornado ! It was a bit unfortunate as the day we booked our trip to see the Tam Coc caves, some ricefields and the Kenh Gah floating villiage the Heavens opened - not good when you're driving round on motorbikes ! The interesting thing about visiting the caves wasn't the caves themselves but seeing the rowing boat women rowing with their feet - and damned fast too ! If you go to Ninh Bin then stay in the Thanh Thuy as the guys who run it are really friendly and run good tours - hire a motorbike and get them to do a motorbike tour with you - just try to avoid the rain ...


I've also added some motorbike videos to one of our Thailand posts - if you want to see some hot biker action then have a look (good camera work Josie !)
[2 Hanoi galleries here and here]
[2 Ninh Bin galleries here and here]
Posted by robl at November 13, 2005 08:49 AM
Comments
Post a comment