« September 2005 | Main | November 2005 »
October 23, 2005
Bridge Over Troubled Water
Josie and James have now returned home after an excellent 3 weeks in Thailand, it was really cool to see them and it was sad to see them go. We're a bit behind with the site at the moment, mainly to do with the increased amount of beer drinking with the Kids, so were now in Laos (which is lovely by the way), but next up for photos is Kanchanaburi.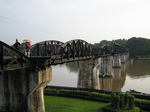 We took a train from Bangkok to Kanchanaburi - it was a proper old style train with wooden seats and windows you can pull down and stick your head right out of which was quite cool. The next day was pretty much dedicated to having a nosy at the Kwai Bridge, the War Museum and main Memorial which was all quite an eye opener for someone like me who never really listened in history lessons but wished they had now. Oh and on that evening me and Josie took rickshaws back to the place we were staying (hurty feet after a long day) and the boys got motorbike-taxis. Looked like hard work for the poor rickshaw drivers though.
The next day was more light hearted, and I know Mum won't be very happy about it but I am going to tell you anyway. We hired motorbikes and rode out into the countryside, it was top fun though. Under the guidance of Mr Wheeler, we managed to find a fantastic unlisted temple with a huge glistening Budda and we met a friendly monk who chatted to us for a while and seemed to spend most of his time in a cave, I think blessing people.
A quick addition - videos of us all on bikes - here and here.

[2 Kanchanaburi galleries here and here]
Posted by deb at 09:40 AM | Comments (0)
October 18, 2005
18/10/2005-02:49:11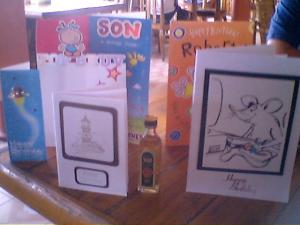 happy birthday to me
Posted by robl at 02:49 AM | Comments (2)
October 13, 2005
13/10/2005-11:06:30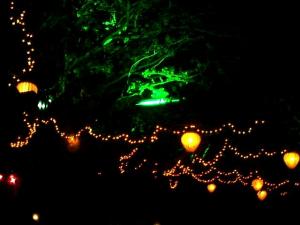 lights on the beach
Posted by robl at 11:06 AM | Comments (0)
October 11, 2005
11/10/2005-03:06:18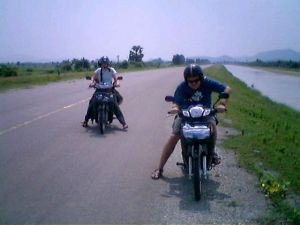 easy riders
Posted by robl at 03:06 AM | Comments (0)
October 10, 2005
10/10/2005-06:20:48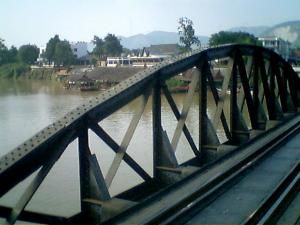 bridge over the river kwai
Posted by robl at 06:21 AM | Comments (0)
Do do do the funky Gibbon
Today we are taking a break from blogging and have a special guest poster in the form of Miss Josie Smith...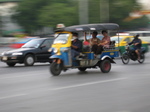 Ok, here goes! We arrived in Bangkok after an 11 hour flight, just about made it. It's been great to see Deb and Rob again and when we met up at the hotel I couldn't keep the tears back. Bangkok is a great place. We've been to Khao San Road, full of bars and market stalls. Rob and Wheeler have even tried Scorpion, well we all tried a bit in the end. We have also been to see the Emerald Buddah with temple buildings full of colour and got some great photos. Shopping is very good here and we have all done really well bartering with the stall holders and getting good discounts, which was fun.

After a couple of days seeing the sights in Bangkok we travelled north to Khao Yai which is a national park. We stopped off for a night in Pak Chong a town near by and after a lovely dinner and a few beers, got brave and tried fried frogs! They, of course, tasted like chicken...We stayed quite close to the park in lodges fully equiped with air con, it's unbelivably hot here. We have completed 2 day treks and a night trek, unfortunatly not actually sleeping in the jungle, which would have been fun. Treks came fully equiped with leech socks, which worried me. Wheeler was the first to get one on his arm and instead of immediately helping we all got our cameras out! We have seen quite a few animals, deers, monkeys, weird looking spiders, gibbons, seen elephant tracks and also treked and swam in a waterfall after crossing a knee depth river on foot. What a fantastic couple of days.


[2 Bangkok galleries here and here]
[2 Khao Yai galleries here and here]


Posted by deb at 11:52 AM | Comments (0)
October 07, 2005
07/10/2005-09:22:53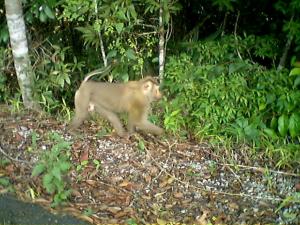 show me the monkey
Posted by robl at 09:23 AM | Comments (0)
October 06, 2005
06/10/2005-05:32:18
spot the monkey
Posted by robl at 05:32 AM | Comments (1)
06/10/2005-05:31:19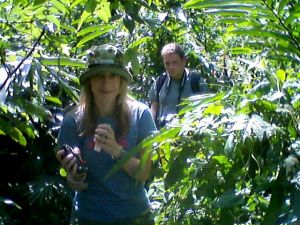 gorillas in the mist
Posted by robl at 05:31 AM | Comments (0)
06/10/2005-02:20:26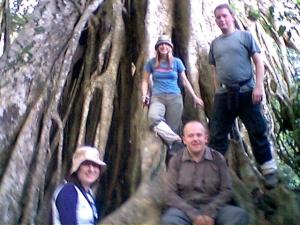 the local monkey population
Posted by robl at 02:20 AM | Comments (2)
October 05, 2005
05/10/2005-23:16:56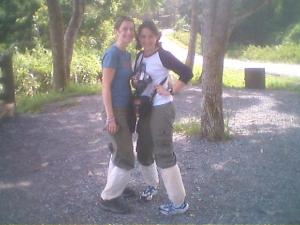 the girls in their leach socks
Posted by robl at 11:17 PM | Comments (1)