« October 2005 | Main | December 2005 »
November 29, 2005
Rockin Rudolph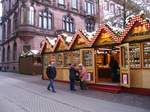 We had a great time with the parents last weekend, not least because we were put up in a lovely hotel (and got a free upgrade to a Junior Suite !) but we also wandered around a very christmassy Heidelberg. The first snow of the Season fell just as we arrived (surprise surprise !) but apart from the chill around my toes due to the flip flops, it was really nice to feel cold again ! We wandered around the Christmas markets, drinking Gluhwein and buying various presents. We also visited the castle and took a ride on the Funicular - all very pleasant ... Thanks Mum and Dad :)

[2 Heidelberg galleries here and here]
Posted by robl at 03:23 PM | Comments (0)
November 28, 2005
28/11/2005-07:55:44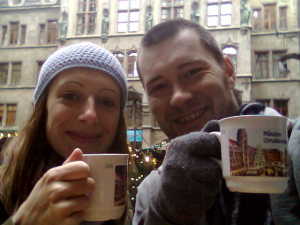 gluhwein all round!
Posted by robl at 07:55 AM | Comments (7)
November 26, 2005
26/11/2005-10:52:12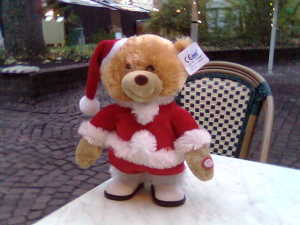 die bear die!
Posted by robl at 10:52 AM | Comments (0)
November 24, 2005
24/11/2005-16:47:38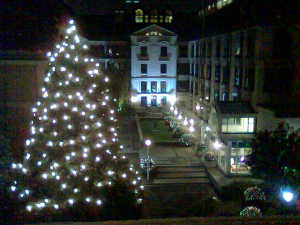 pretty view from our hotel window
Posted by robl at 04:47 PM | Comments (0)
Hong Kong Phooey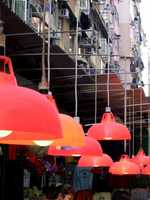 Actually, some of you techy types (you know who I mean) might be interested to know that I'm blogging this from our very long 12 hour flight to Germany. I am rather disproportionately excited about this, even though in reality you only get as long as your laptop battery can take (in our case a combined 4 hours) for US$30.
Hong Kong has been excellent - I've seen Rob shop more than I have seen him ever shop before and apparently enjoying it too (something to do with normal shops being inter-dispersed with gadget shops). In between shopping, we've also seen a little of Hong Kong. We went to the Space Museum and took a bus over to Stanley to wander round the market there (hmm this this might class as more shopping) which were both good fun. We've also been taken out to dinner by Sauming (who used to work at Energis with us) to a very impressive resturant called Aqua at the top of a very tall building.. we had quite possibly the best sushi meal I have had ever with the most fantastic views (thanks Sauming!).
Some of you will be pleased to know that gadgets out here aren't actually that much cheaper than in the UK. If you hunt around you can find cheaper prices but it often doesn't outway the warrantee you don't often get by buying it in HK. Having said that, Rob has bought himself a gorgeous new Compaq laptop and I've got a stunning new Nokia 6170 (Nokia is such a sweet partner after having used a Sony Ericsson for the last 12 months - but thank you Mattb, it's been a very useful phone!). Oh mustn't forget the new lens that I've bought for the DSLR I don't quite have yet...

[2 Hong Kong galleries here and here]
Posted by deb at 06:43 AM | Comments (0)
The Times They Are A-Changin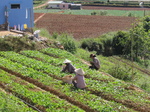 Another open tour bus journey took us to Dalat - 'The Romantic City' in the mountains according to all the locals. Deb wanted to hire motorbikes again but it started raining again so we decided to try a different approach and hire a car, driver and guide to take us to see the local sites. It was a glorious day when we went out and we had a really pleasant time. One of the first things we went to see was the Lak Village which whilst not steeped in local customs and ancient ways, was quite interesting and we got to see the old style of houses on stilts that the ethnic minorities used to live in and also the sacrificial altar for the buffalo. We also went to visit the 'Crazy House' and it certainly lives up to it's name - very obscure architecture. Other places of note included the Dalat old railway station, Chinese pagoda, Datanla falls and last but not least the 'Valley Of Love'. The last one was quite an experience as it's how Dalat got it's name for being a romantic city. The 'Valley of Love' was originally a picturesque place by a lake on the side of a mountain in forestland and was used by students from the local univeristy there for 'late night research'. However once the tourists found out about it and more and more people wanted to go the Government 'landscaped' the area covering it in concrete and provided delightful swan pedalos for the lake, needless to say the locals found another beautiful spot and never tell the tourists about it ...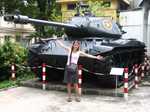 After the fun of Dalat we made our way to the final destination in Vietnam - Ho Chi Minh City (or HCMC from now on). This was a really nice suprise as we were expecting it to be worse than Hanoi when in fact it was pretty relaxed and we only recieved a minimum of hassle. Our main goal was to go and see the Cu Chi tunnels which the Viet Cong used against the Americans (and the French before them) in the war. The tunnels we saw had been expanded so westerners could fit in them as before this I wouldn't have made it through them. Deb also got to fire a semi-automatic rifle with live ammo - although I don't think she hit any targets her ears were surely well protected by the quality ear defenders they supplied - oh no actually - they were headphones !
We also visited a number of museums in HCMC which were all interesting and exhibited various spoils of war which were fun to go and look round, however, it was all put into perspective by the War Museum where there was a large amount of photojournalistic content including graphic examples of the use of napalm and white phospurous (and they used it in Iraq as well) - not pleasant viewing at all but very powerful nonetheless - highly recommended.
[2 Dalat galleries here and here]
[2 HCMC galleries here and here]
Posted by robl at 07:46 AM | Comments (0)
November 20, 2005
20/11/2005-09:22:08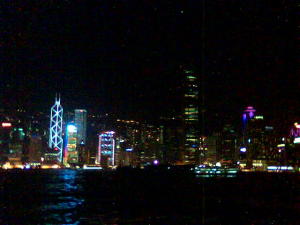 view of Hong Kong from the ferry
Posted by robl at 09:22 AM | Comments (0)
20/11/2005-09:09:25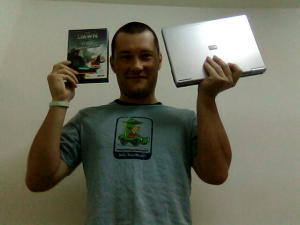 gadget boy gets a refurb!
Posted by robl at 09:09 AM | Comments (1)
November 19, 2005
19/11/2005-07:36:46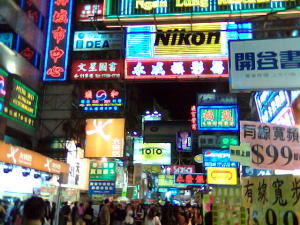 the big city
Posted by robl at 07:36 AM | Comments (0)
19/11/2005-05:05:18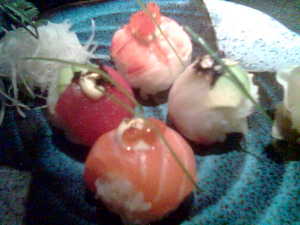 sushi balls!
Posted by robl at 05:05 AM | Comments (0)
November 18, 2005
18/11/2005-23:55:06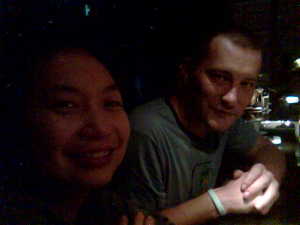 hello Sauming!
Posted by robl at 11:55 PM | Comments (0)
November 14, 2005
Vietnam Blues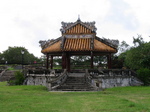 After fleeing from Hanoi we took the Reunification Express that links Hanoi to Ho-Chi-Minh City. We stopped in Hue - a UNESCO world heritage site that has amongst it's relics a citadel. Hue was more relaxed than Hanoi but still had a huge number of annoying Cyclo drivers hassling you every 2 minutes. The citadel was quite impressive and the Thai Hoa palace inside was pretty cool. The most fun we had was feeding the large numbers of Koi carp in the lake inside - the fish literally jumped on top of each other to eat it !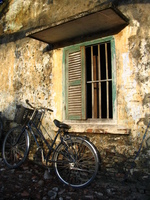 The next stop on the list was Hoi An - the best place to get tailor made clothes in Vietnam. We took an open tour bus there - they are incredibly cheap usually less than $10 to travel between large cities and the larger distance you travel in total the cheaper the cost between places becomes. The only disadvantage is that they take you to a set of 'partner' hotels and try (usually quite hard) to convice you to stay in them (kickback is the word you're thinking of). So battling between the hotel touts we eventually managed to find our chosen hotel and settling for an incredibly relaxing 4 days in Hoi An. It has a french colonial feel to it's buildings and style and everything is a lot more laid back. It was the first place we stayed that you could walk along the street and not be hassled. The town may be a little manufactured for tourists as I'm not sure the locals stayed there and there are over 200 tailors in the town but it was a really pleasant place to stay. Deb obviously started foaming at the mouth at the thought of being able to buy tailor made clothes for a few dollars a garment so 1 suit, 1 shirt, 1 coat, 1 skirt, 1 dress, 2 sets of trousers, 1 top and a set of shoes later we were able to rest. I also had two suits made ($30 US each) - I just need a job now ;) If you need a suit making and you happen to be in Hoi An then I have to recommend Mr Xe on Le Loi Street (where most of the 'better' tailors are located) as he did a great job, wasn't too pushy and seemed to enjoy measuring me far too much ... Another honourable mention goes to Yellow Star Cafe where they did a good bangers and mash - or so Deb tells me.
[2 Hue galleries here and here]
[2 Hoi An galleries here and here]


Posted by robl at 04:22 AM | Comments (3)
November 13, 2005
Good Morning Vietnam (it had to be done !)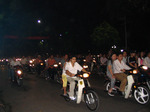 The last couple of weeks in Vietnam have been quite a mix. I think our first experience sums up a large part of our Vietnamese experience. We had just arrived at the airport and were absolutely knackered after the trip from Laos (as we were both a bit off colour). We decided to jump in a taxi and get him to take us to the hotel we had picked in the Lonely planet - he asked us if we were sure we wanted to go there and he knew somewhere better etc ... but we told him we had a booking and off we went. A 1/2 hr journey later and we were at the hotel - it had the sign outside and everything - the only thing was we couldn't see the cafe that was supposed to be across the road - strange but we went inside (as the guy from the hotel grabbed our bags and ushered us in). It was a reasonable hotel - a little pricey but fine and recommended by the Lonely Planet. The only thing was it wasn't actually the hotel we had asked to go to - it was a fake with the same name !

To be fair I had read about this in the LP and I guessed we were being scammed so only booked in for one night, and the room wasn't too bad if a little expensive. So how does this relate to our experiences of Vietnam - well I guess basically the majority of people who try to offer you a service are out to scam you in some way but overall the experience won't be too bad - if a little expensive ...
I think my favourite thing was seeing the water puppets in Hanoi - it's like punch and Judy but on water ! I managed to capture the best part on video (water dragons playing with some impressive effects). Unfortunately we were sitting at the back so the pictures don't do it justice. Hanoi was probably our least favourite part of Vietnam as you couldn't walk down the street without at least three or four VERY persistent people trying to get you to buy/book/rent/eat something. It meant you couldn't enjoy the city as you were dashing from place to place trying to keep off the street - we've experienced tough hawkers before and I thought I'd perfected my 'Get Lost' stare but apparently thats not understood in Vietnam.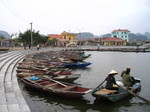 After recouperating in Hanoi (and moving to another Hotel), we travelled onto Ninh Binh where we experienced another tornado ! It was a bit unfortunate as the day we booked our trip to see the Tam Coc caves, some ricefields and the Kenh Gah floating villiage the Heavens opened - not good when you're driving round on motorbikes ! The interesting thing about visiting the caves wasn't the caves themselves but seeing the rowing boat women rowing with their feet - and damned fast too ! If you go to Ninh Bin then stay in the Thanh Thuy as the guys who run it are really friendly and run good tours - hire a motorbike and get them to do a motorbike tour with you - just try to avoid the rain ...


I've also added some motorbike videos to one of our Thailand posts - if you want to see some hot biker action then have a look (good camera work Josie !)
[2 Hanoi galleries here and here]
[2 Ninh Bin galleries here and here]
Posted by robl at 08:49 AM | Comments (0)
Motorcycle Emptiness
Typhoon Kai Tak has meant that Rob and I have been stuck inside a bit more than normal so I've had a bit of time to put the Laos photos together for the site. Also have a look at the photos from Khao Yai - some comedy frog eating photos have been added (plus some other ones) that were missing before.
Vientiane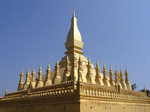 After a stealthy shopping session in Bangkok (getting a new camera and Rob's phone fixed amoungst other things) and the fastest packing session on record, we arrived at the airport at a healthy forty minutes before our flight was due to leave - I had been pretty sure we weren't going to make it to Laos when we were still checking out of the hotel at about 1 hour before take off time but we had Mr Wheeler's expert plane catching luck on our side this time. We arrived in Vientiane by prop plane - two seats each side and much louder than a normal jet plane but still ok.
In Vientiane we rented motorbikes again so we could get round the city with some speed and also go to the Buddha Park which was about 25km away. It was almost like we knew what we were doing this time, until we forgot that people drove on the right not the left side of the road as in Thailand. Doh. Once we had sorted out that minor hitch, we rode to see Pha That Luang (the gold stupa, symbol of Laos), Patuxai (Victory Gate - very Arc de Triomphe looking) and then to the fantastic Buddha Park which also has a huge pumpkin than you can climb up inside.
On the way back we stopped at what we thought to be a shop selling drinks and we only realised later that infact it was actually someone's house. It must have looked quite strange, us stopping at their front door asking for a drink of water, them kindly offering us filtered water or beer and then us saying bottled water will only do. doh! Anyway as punishment/reward, that evening we stopped for a beer in the nightclub next door to our hotel, which was rather like we had stumbled upon a Lao wedding evening do.
The next day we took a bus to Vang Vieng - it kept stopping to load on/ off more stuff (mostly sacks of rice I think). Dad would be impressed - stuff was piled on top of the bus, between the seats and any other spare space, sometimes a motorbike or bed would be on the roof-rack too.
Vang Vieng
Vang Vieng is a kind of Khao San Road of Laos but on a much smaller scale. We hired bikes again and rode out to some of the villages, it was cool to see the kids ride past waving and shouting Sabbai dee (hello)! The scenery is around Vang Vieng is beautiful - small villages set against limestone peaks next to the Mekong.

Luang Prabang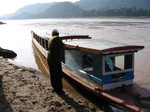 Next we took a minibus to Luang Prabang. We stayed in a great guesthouse (called Sysomphone Guesthouse) where Steve had stayed last time - it was run by a friendly old couple who fed us lots of Lao Lao (Lao whisky) and bananas.
We were going to hire bikes again in Luang Prabang but it turned out that the city now no longer allows bike rental for tourists. Instead we hopped on a boat which took us to see some of the sites (eek, non of which I can remember the name of) but the boat ride itself was pretty cool :). The last morning Steve and I got up at a shocking 5-30am to see the alms procession of the buddist monks. There were at least 100 monks lined up and being given food by people on the streets.
The journey back from Luang Prabang to Vang Vieng was a pretty long bumpy one and we had to get up early the next day after a late night to get the first bus back to Vientiane for our flights. The bus stopped an amazing 3 times to change the wheels (Lao roads are not finished quite to UK standards) and eventually we changed buses and managed to get to the airport at least an hour before Steve had to catch his flight :).
[2 Vientiane galleries here and here]
[2 Vang Vieng galleries here and here]
[2 Luang Prabang galleries here and here]
Posted by deb at 05:56 AM | Comments (2)
Fire Starter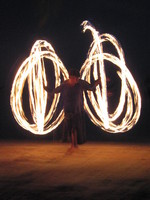 Still a few sets behind with the photos, this is the last set from Thailand. We were sad to see Mr Wheeler go last week - we've had a wicked time wandering round Laos & Thailand with him & especially some top fun with the motorbikes. Tried to repeat the motorbike fun yesterday in what turned out to be Typhoon weather, but more on that another time!!

It was a long bus journey down to Chumphon and even though we arrived at about 2 in the morning, the lovely lady from the guesthouse Josie had phoned earlier (Anyone help me with the name?) was waiting there for us to pick us up. Early the next morning we caught a ferry over to Koh Tao where we spent the next few days...
[2 South Thailand galleries here and here]
We hired bikes again on Koh Tao, although this time the roads weren't up to much which made our ride around and eventually up to the lookout/resturant point a very tricky one. The view at the top was worth it, as was the food and now we can all now qualify for the TV program Kick Start and probably actually do quite well :)
Josie and I also had fantastic Thai massages (by two very nice ladies) which although pretty brutal (we didn't really know what brutal meant until the next one - see later) at times, worked wonders on my shoulders which have been much better since.
It was also Rob's birthday on Koh Tao; as you can imagine this was celebrated in true Rob Lee style. The chaps enjoyed the cigars, thank you Shaun & Sarah! Cards and pressies were also very much appreciated too!
With a "Rob Lee drunk" hangover of doom we headed over to Koh Phangan for the Full Moon party. We decided to stay on the other side of the island so we didn't have to worry about our stuff getting nicked while we were at the party. It turned out to be quite fun to get there.. a 30 minute ride in a truck across very unfinished rocky roads (with hangover not good) or a boat ride where you get quite wet. (more on this later).
So we decided to get to the Full Moon party by boat which we didn't realise would mean getting most of our bottom halves wet in order to get in the boat. Result: pockets full of toasted gadgets. My camera was fairly stuffed anyway but this finished it off along with Rob's phone (number 2) which is now being fixed by a nice man in Bangkok for hopefully not too much money. My compact flash card with all my photos on has somehow managed to revive itself now (yay!) and we bought a cheap camera in Bangkok which is similar to the old one and will do for now (will be treating myself to a nice new on in Hong Kong!).
The Full Moon party was actually pretty cool - lots of huge sound systems and lots of buckets of vodka/redbull drinks. Josie and I got glowing things painted on our shoulders, I am sure we must have looked cool :) hehe. We got a boat back at about 6 in the morning and had to leave for Koh Samui the next day in order to fly back to Bangkok. Josie and James had to fly all the way home too, it was a long day!!
Oh I almost forgot about the sand massage (actually Josie I never gave you money for that!). Josie and I thought we would get another massage on Koh Phangan as the last one had been good. What we failed to appreciate was that we had spent the morning sunbathing and had got particularly sunburnt and still had sand on our legs from being on the beach. This resulted in the most voluntarily painful hour ever. The ladies rubbed oil into the sand on our legs and then rubbed it very hard into our sun burn. Ouch, I do not recommend it one bit!
Rob says Hello to all the Nans out there!
Posted by deb at 08:20 AM | Comments (2)