November 22, 2005
The Times They Are A-Changin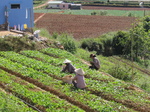 Another open tour bus journey took us to Dalat - 'The Romantic City' in the mountains according to all the locals. Deb wanted to hire motorbikes again but it started raining again so we decided to try a different approach and hire a car, driver and guide to take us to see the local sites. It was a glorious day when we went out and we had a really pleasant time. One of the first things we went to see was the Lak Village which whilst not steeped in local customs and ancient ways, was quite interesting and we got to see the old style of houses on stilts that the ethnic minorities used to live in and also the sacrificial altar for the buffalo. We also went to visit the 'Crazy House' and it certainly lives up to it's name - very obscure architecture. Other places of note included the Dalat old railway station, Chinese pagoda, Datanla falls and last but not least the 'Valley Of Love'. The last one was quite an experience as it's how Dalat got it's name for being a romantic city. The 'Valley of Love' was originally a picturesque place by a lake on the side of a mountain in forestland and was used by students from the local univeristy there for 'late night research'. However once the tourists found out about it and more and more people wanted to go the Government 'landscaped' the area covering it in concrete and provided delightful swan pedalos for the lake, needless to say the locals found another beautiful spot and never tell the tourists about it ...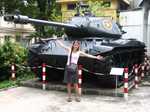 After the fun of Dalat we made our way to the final destination in Vietnam - Ho Chi Minh City (or HCMC from now on). This was a really nice suprise as we were expecting it to be worse than Hanoi when in fact it was pretty relaxed and we only recieved a minimum of hassle. Our main goal was to go and see the Cu Chi tunnels which the Viet Cong used against the Americans (and the French before them) in the war. The tunnels we saw had been expanded so westerners could fit in them as before this I wouldn't have made it through them. Deb also got to fire a semi-automatic rifle with live ammo - although I don't think she hit any targets her ears were surely well protected by the quality ear defenders they supplied - oh no actually - they were headphones !
We also visited a number of museums in HCMC which were all interesting and exhibited various spoils of war which were fun to go and look round, however, it was all put into perspective by the War Museum where there was a large amount of photojournalistic content including graphic examples of the use of napalm and white phospurous (and they used it in Iraq as well) - not pleasant viewing at all but very powerful nonetheless - highly recommended.
[2 Dalat galleries here and here]
[2 HCMC galleries here and here]
Posted by robl at 07:46 AM | Comments (0)
November 14, 2005
Vietnam Blues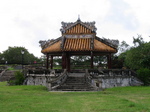 After fleeing from Hanoi we took the Reunification Express that links Hanoi to Ho-Chi-Minh City. We stopped in Hue - a UNESCO world heritage site that has amongst it's relics a citadel. Hue was more relaxed than Hanoi but still had a huge number of annoying Cyclo drivers hassling you every 2 minutes. The citadel was quite impressive and the Thai Hoa palace inside was pretty cool. The most fun we had was feeding the large numbers of Koi carp in the lake inside - the fish literally jumped on top of each other to eat it !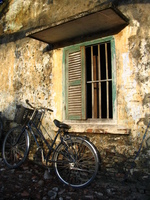 The next stop on the list was Hoi An - the best place to get tailor made clothes in Vietnam. We took an open tour bus there - they are incredibly cheap usually less than $10 to travel between large cities and the larger distance you travel in total the cheaper the cost between places becomes. The only disadvantage is that they take you to a set of 'partner' hotels and try (usually quite hard) to convice you to stay in them (kickback is the word you're thinking of). So battling between the hotel touts we eventually managed to find our chosen hotel and settling for an incredibly relaxing 4 days in Hoi An. It has a french colonial feel to it's buildings and style and everything is a lot more laid back. It was the first place we stayed that you could walk along the street and not be hassled. The town may be a little manufactured for tourists as I'm not sure the locals stayed there and there are over 200 tailors in the town but it was a really pleasant place to stay. Deb obviously started foaming at the mouth at the thought of being able to buy tailor made clothes for a few dollars a garment so 1 suit, 1 shirt, 1 coat, 1 skirt, 1 dress, 2 sets of trousers, 1 top and a set of shoes later we were able to rest. I also had two suits made ($30 US each) - I just need a job now ;) If you need a suit making and you happen to be in Hoi An then I have to recommend Mr Xe on Le Loi Street (where most of the 'better' tailors are located) as he did a great job, wasn't too pushy and seemed to enjoy measuring me far too much ... Another honourable mention goes to Yellow Star Cafe where they did a good bangers and mash - or so Deb tells me.
[2 Hue galleries here and here]
[2 Hoi An galleries here and here]


Posted by robl at 04:22 AM | Comments (3)
November 13, 2005
Good Morning Vietnam (it had to be done !)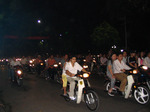 The last couple of weeks in Vietnam have been quite a mix. I think our first experience sums up a large part of our Vietnamese experience. We had just arrived at the airport and were absolutely knackered after the trip from Laos (as we were both a bit off colour). We decided to jump in a taxi and get him to take us to the hotel we had picked in the Lonely planet - he asked us if we were sure we wanted to go there and he knew somewhere better etc ... but we told him we had a booking and off we went. A 1/2 hr journey later and we were at the hotel - it had the sign outside and everything - the only thing was we couldn't see the cafe that was supposed to be across the road - strange but we went inside (as the guy from the hotel grabbed our bags and ushered us in). It was a reasonable hotel - a little pricey but fine and recommended by the Lonely Planet. The only thing was it wasn't actually the hotel we had asked to go to - it was a fake with the same name !

To be fair I had read about this in the LP and I guessed we were being scammed so only booked in for one night, and the room wasn't too bad if a little expensive. So how does this relate to our experiences of Vietnam - well I guess basically the majority of people who try to offer you a service are out to scam you in some way but overall the experience won't be too bad - if a little expensive ...
I think my favourite thing was seeing the water puppets in Hanoi - it's like punch and Judy but on water ! I managed to capture the best part on video (water dragons playing with some impressive effects). Unfortunately we were sitting at the back so the pictures don't do it justice. Hanoi was probably our least favourite part of Vietnam as you couldn't walk down the street without at least three or four VERY persistent people trying to get you to buy/book/rent/eat something. It meant you couldn't enjoy the city as you were dashing from place to place trying to keep off the street - we've experienced tough hawkers before and I thought I'd perfected my 'Get Lost' stare but apparently thats not understood in Vietnam.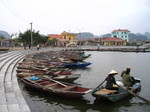 After recouperating in Hanoi (and moving to another Hotel), we travelled onto Ninh Binh where we experienced another tornado ! It was a bit unfortunate as the day we booked our trip to see the Tam Coc caves, some ricefields and the Kenh Gah floating villiage the Heavens opened - not good when you're driving round on motorbikes ! The interesting thing about visiting the caves wasn't the caves themselves but seeing the rowing boat women rowing with their feet - and damned fast too ! If you go to Ninh Bin then stay in the Thanh Thuy as the guys who run it are really friendly and run good tours - hire a motorbike and get them to do a motorbike tour with you - just try to avoid the rain ...


I've also added some motorbike videos to one of our Thailand posts - if you want to see some hot biker action then have a look (good camera work Josie !)
[2 Hanoi galleries here and here]
[2 Ninh Bin galleries here and here]
Posted by robl at 08:49 AM | Comments (0)